Dakin History
Dakin Contractors Specialise in PFS design, management and construction
The Company has been in business since 1980, still has our original Managing Director in Michael Davis and has very long standing workforce both in the office and on site in our ground force.
Dakin Contractors has always specialised and continue to specialise in the design, management and construction of full redevelopments, refurbishments and alterations to petrol service stations either for the petroleum industry direct or major retailers.
Since being founded in 1980, by Michael Davis, Dakin Contractors has worked for all the major oil companies in the petroleum industry, some being:
Between 1980 and the start of 2012 Dakin Contractors had completed 722 petroleum industry projects:
---
Progress
Certainly since 1980 Dakin Contractors have learnt to embrace new standards, new laws, new methods and new technology and continue to progress as a company in skill and expertise.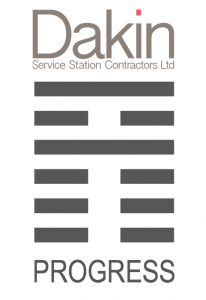 ---